Border / inhabitants
The AMA encompasses the city of Amsterdam, the provinces North Holland and Flevoland with 36 municipalities, and a total population of over 2.4 million inhabitants. AMA Central Administration (BKG) has the administrative responsibility for the area. REPAiR focuses on developing the CE Hotbed in Haarlemmermeer, a municipality south of Amsterdam and home to Schiphol International Airport. Adjacent to the CE Hotbed, Park 20|20 develops CE in close collaboration with C2C™ founders McDonough and Braungart.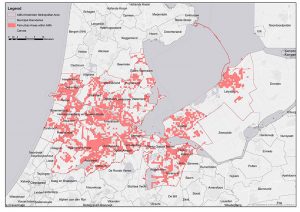 Problems / key material flows
As in Park 20|20, all buildings in the CE Hotbed are designed to have material and energy neutral footprints. Building components are designed to be fully reusable at the end of their intended use-cycle. However, whereas in Park 20|20 only the built environment itself is circular, the CE Hotbed intends to conceptualise the business models of CE within the C2C™ built environment area and to develop them into actual business. The prime movers in the global CE field (i.e. CE100 member companies, McDonough, Braungart, MacArthur, Arizona State University, etc.) are involved to achieve this result. To all parties' benefit, "local" parties and initiatives will be integrated, such as the municipalities of Haarlemmermeer and Amsterdam, Municipal Waste Processor Meerlanden, advisory/user board member AEB, the newly established Amsterdam Institute for Advanced Metropolitan Solutions (AMS), and the adjacent Enginn incubator.
Aim / objectives / challenges
The key challenges for REPAiR in relation to the CE hotbed development are twofold:
Develop practical business models, which requires that the irreplaceable materials used to make products, and the technologies to facilitate them, are central.

Spatial translation of (1).