Border / inhabitants
The case study area comprises the City District Hamburg-Altona and the County of Pinneberg in the federal states Hamburg and Schleswig-Holstein, is 741.75 km² large with more than 500,000 inhabitants. The area comprises a variety of urban and peri-urban settlement types (e.g. urban cores, village centres, retail, logistic etc.) and open spaces (e.g. agricultural land, natural preservation areas, etc.).
Problems / key material flows
Due to a growing economy and population, open spaces are under pressure for development into housing or commercial areas. The recycling rate is generally high, with bio-waste as the weakest performing waste cycle.
Aim / objectives /challenges
The case study focuses on improving bio-waste cycles in private households as well as in agricultural production. Ideas for improved waste cycles will be developed in cooperation with housing companies, housing cooperatives, local authorities, ecological associations, local initiatives and enterprises. The waste production and recycling behaviour of different settlement typologies will be examined.
To summarize, REPAiR uses the transdisciplinary framework of geodesigns, bringing together knowledge and resources from different disciplines to develop strategies for CE, based on decision needs of key stakeholders in six cases across Europe. REPAiR achieves this by developing new methods as well as using GIS supported modelling and design tools that allow decision making informed by environmental sustainability appraisal, including project conceptualisation, analysis, projection and forecasting, diagnosis, alternative design, impact simulation and assessment.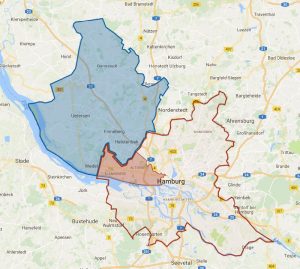 The area comprises a variety of
urban and peri-urban settlement types (e.g. urban cores, village centres, suburban detached houses, large housing estates, retail, logistic etc.)
open spaces (e.g. agricultural land, natural preservation areas, etc.).
a very special characteristic is the concentration of tree nurseries and horticultural farms (circa 500 enterprises)
Key challenge is improvement of high-quality separate collection of recyclables and bio-waste in Hamburg